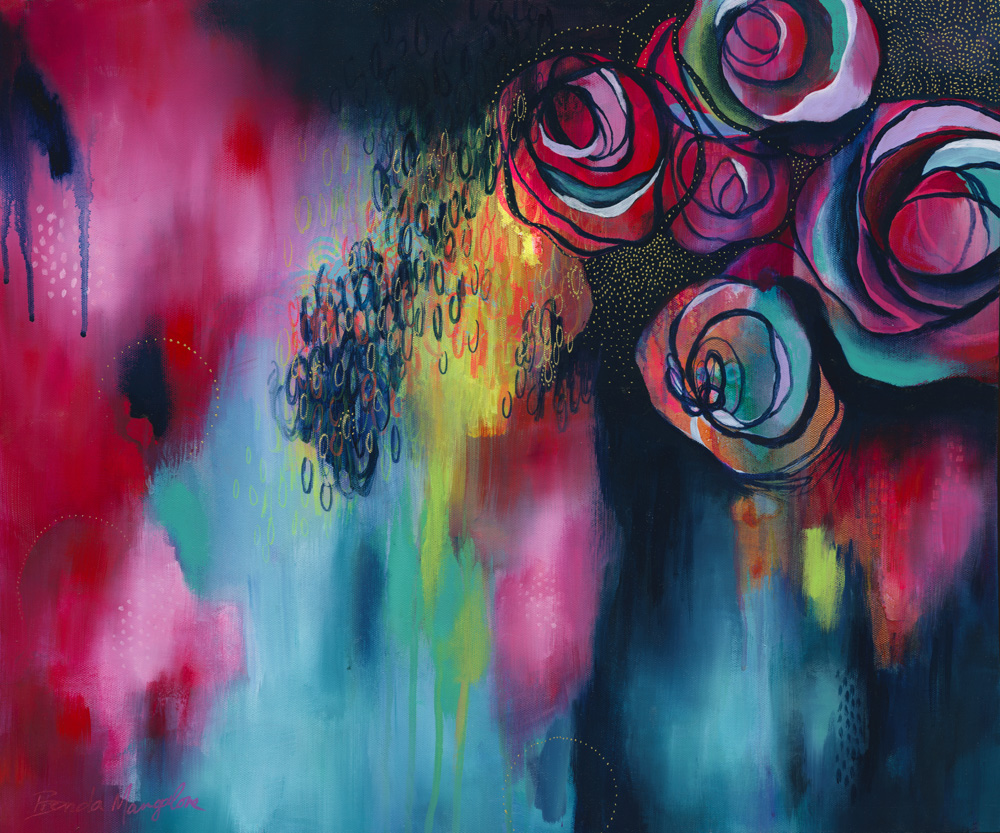 A BOUQUET OF DAYDREAMS
FOLLOWING MY EXPLORATION OF THE SPIRAL SHAPE AS A FEATURE IN MY CURRENT BODY OF WORK - THESE 'BOUQUETS' KEPT PUSHING THROUGH WHILE I WAS PAINTING THIS PIECE.
They slowly but surely developed into a distinct floral flavour that nestles amongst the daydream of colour washes.
It was only when I surrendered to the floral shape could I find relief that this painting was finally finished. It sat for a long time in my studio waiting patiently for me to let go of my need to control what I thought was 'best'.
A constant reminder for me to let go and allow (& trust!) the process to develop and go where it needs to go.

With little details of gold dots and fluorescent marks - this Bouquet of Daydreams is definitely one that creates a little window for the viewer to explore and get lost in.
Blessing that comes with this painting:
MAY YOU FIND FRAGRANT RELIEF IN SURRENDERING TO YOUR INNER WISDOM
All paintings are varnished, signed & dated. Created & packaged with love and care in my studio.
Painting details:
24inch(w) x 20inch(h) | 60.5cm(w) x 51cm(h)

Acrylic on Gallery wrapped Canvas. Ready to be framed + sides are painted rich black. I can help you organise framing with my favourite frame. Contact me for a custom quote

Glossy Varnish (which gives the colours an amazing depth + protects the painting, though I would not recommend hanging it in direct sunlight -- that will make the painting sad & fade.)


Please note that the image has been calibrated to be as accurate as possible -- due to different monitor settings, the colour you see on your screen may not be an accurate representation of the real thing. Rest assured, the colours are rich and beautiful.
sold out