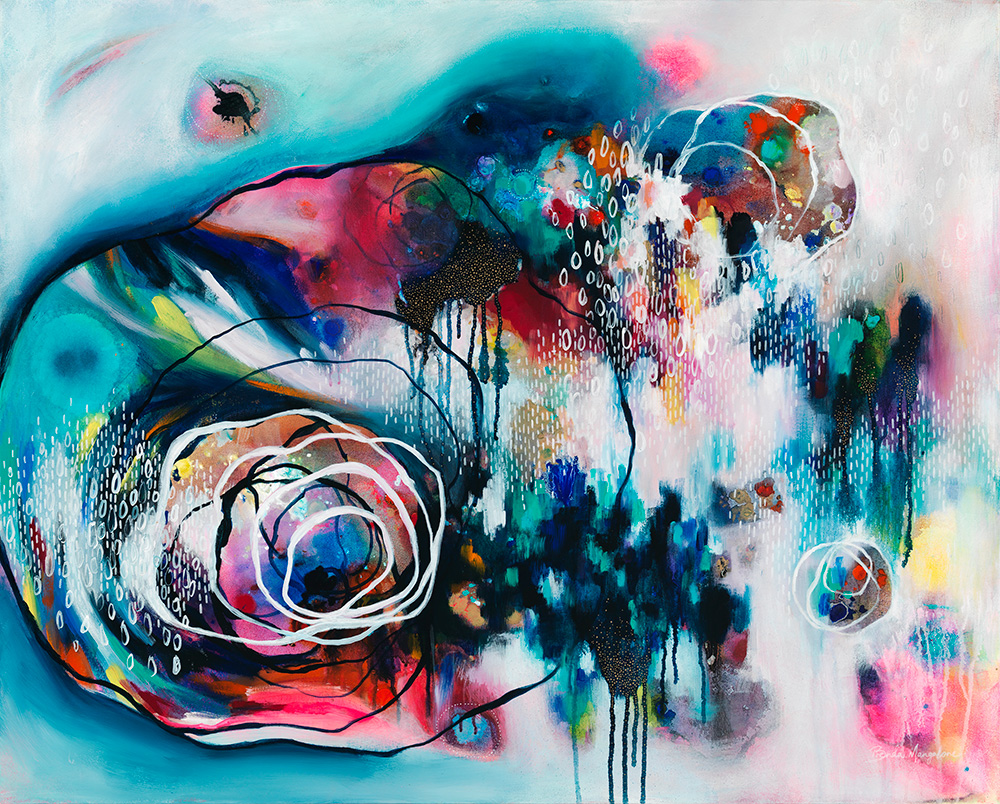 RESONANCE IN PROGRESS
This piece began while I was pregnant - the energy & colours of the underlayers can still be seen in the final piece. There was some uncertainty but also lots of hope and freedom to play!
Then it continued while Raven napped in her carrier as I continued painting in the studio.
There were many parts that I really liked that had to be surrendered to get to something I could love. To reach a satisfying release, I had to work in new ways to problem solve the composition and colours.
From my LIKE FAMILY May 2018 collection.
These paintings continue my exploration of spirals as an anchor amongst the 'mess' of chaos & colour.
Life is messy & chaotic, so is going after your dreams. Whether that is building a business, raising a family or a combination or everything.
There IS beauty in the mess!

If you allow it, art can be an anchor for self-expression in your life.
This collection was created in the months after the birth of my second baby.
It was like a rebirth and rediscovery of my self & my dreams.
Some were painted inbetween feeds and naps.
Some were birthed in a flurry of inspired action. (Just like the birth of Raven!)
Like family, the collection on the surface looks higgledy piggledy. But at the heart of it all, their essence is the same.
They may not all get along all the time, but the love is there.
It holds the anchors of the past (from the spirit of my grandmother who watches over us) and the anchors of my dreams of the future for my girls.
May these paintings serve as inspiration for you to find your anchors & joy in connection with your family -- whether by blood or choices, family are a spiral of focus that helps us see the beauty in the mess!
All paintings are varnished, signed & dated. Created & packaged with love and care in my studio.
Painting details:
Size: 40"x 32" / 101.6 x 81.3cm

Gallery wrapped cotton canvas. To be framed in natural oak. (add approximately 1.5cm/ half an inch to the size on all sides)

Please allow 2-3 weeks for framing! (If you prefer no frames or a different colour, send me an email to organise with me!)

Satin Gloss Varnish (which gives the colours an amazing depth + protects the painting, though I would not recommend hanging it in direct sunlight -- that will make the painting sad & fade.)
please note that the image has been calibrated to be as accurate as possible -- due to different monitor settings, the colour you see on your screen may not be an accurate representation of the real thing. rest assured, the colours are rich and beautiful.
sold out