Art should be more than just something pretty to look at
This is more than just another painting
Just as your home is more than just a building or another space to dwell
It is a space for all of you — your soul & mind & heart as well as body to rest and rejuvenate. It is a safe place to heal, grow, arise afresh. It is a temple for your spiritual connection. It is a portal for your divine activation of your calling & your higher self.
This commission experience is a communion of creativity & spirituality with beauty & art
Of course you get a beautiful masterpiece of art - a statement piece that anchors your desires, your soul callings & your values in a tangible, gorgeous object of d'art
This is an intimate experience of collaborative creation - to bring a living, ongoing relationship between you & the painting to life.
The painting will serve as an anchor for all that you are today, all that you desire & all that you will become.
It will be a living usher & showcase in the participation of the evolution of your higher consciousness
It will help you express the unspoken connection you have with art & meaning, with faith & love, with life & soul.

This means you are ready for A deeper kind of relationship with soul & spirit
Are you ready for your creative expression, your inner genius - your divine magic to be activated?
This experience will create the container to commune with art & soul & beauty & spirituality & creativity & your higher self daily.
• Every morning with your morning coffee
• Every evening as you unwind from the day
• Every time you pass by the artwork on your way to doing your work, unleashing your art into the world
To dive into that spiritual container that others may only see as 'a pretty painting'
It will be a mirror to your true self
It will be a window into your desires & values
It will be a portal to transport you to the next level, higher self that has been calling you & is ALREADY within you
This means you are yearning to adorn your home with beauty while connecting with your spiritual practice
This means you are called to express your creativity AND your spirituality in your outer world - as a way to express your inner spaces
You know that Beauty IS spirituality
You know that Art is MORE than just a pretty picture - it can be an anchor for your self-expression in your spaces & your home
You know that YOU are calling yourself to a deeper level of communion to the divine & your relationship with it
YOU are calling yourself to a wider understanding of your next level
YOU are calling yourself to a higher connection to your calling
You know that this isn't something to 'match the cushions'
This is bringing the essential anchor with which you curate & design everything else around it - it will give you the answers to the next steps!
This is an experience to bring the magic of the looking glass into your home
This is for those who feel
the inner calling of your soul when you see my art
This is for those who feel resonance in your cells beyond words when you see the paintings
This if for those who are ready to turn their lives into spiritual works of art - and want your home, your office, your spaces to reflect that desire.

This is for those who KNOW without having to know why..
that this is a full - body HELL YES
Those ready for spiritual activation through portals of their inner & higher consciousness - that are also beautiful works of art
This is for those who cannot WAIT to have conscious participants in your energetic upgrades & soul performance that is also a BEAUTIFUL piece of art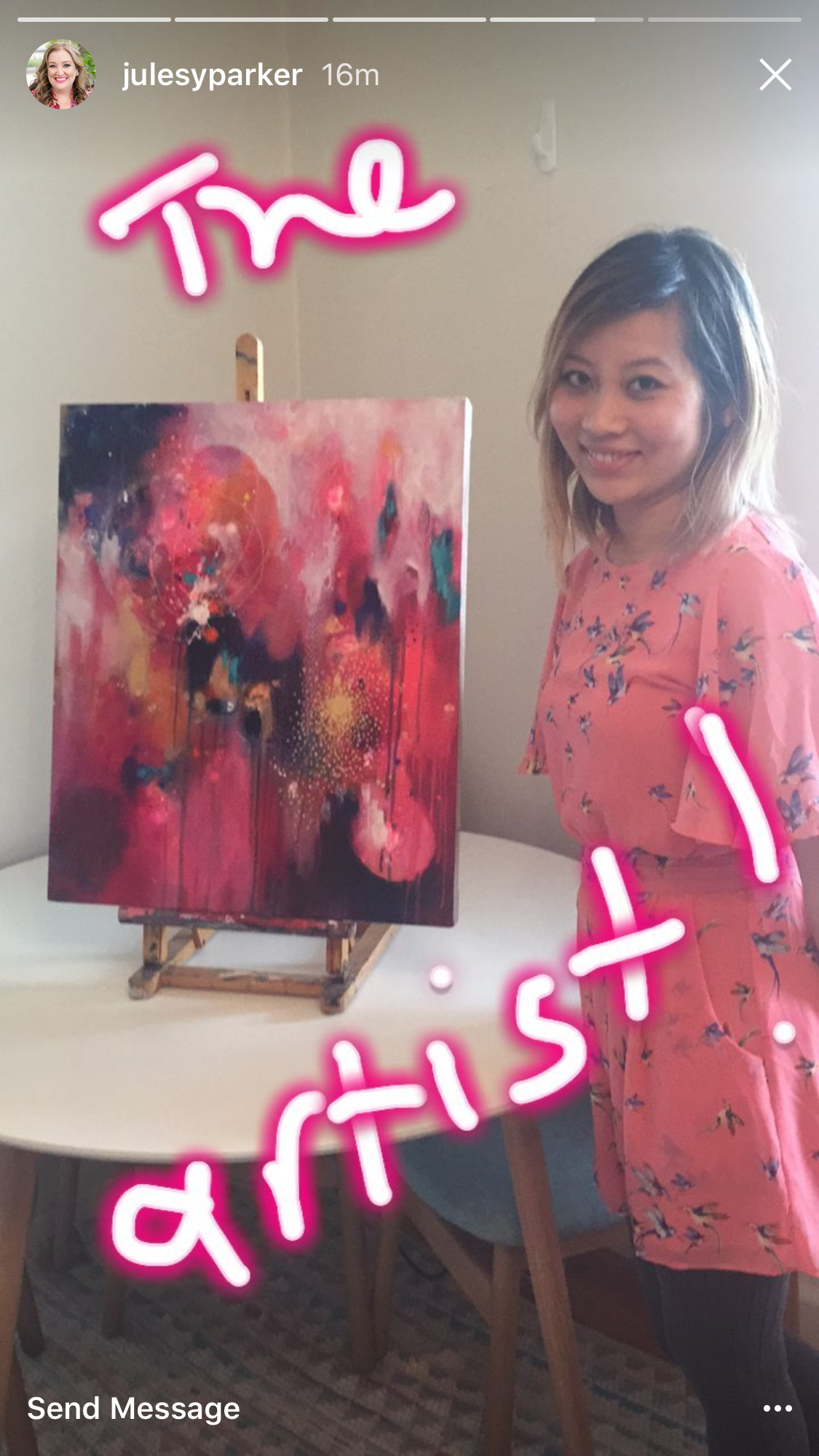 I had already purchased a small pair of Brenda's artworks and loved them. When I wanted something larger, I reached out to her again.
I wanted a painting that I would love and would have a spiritual element and connection for me personally.
The process of working with Brenda was clear and easy and she communicated very well throughout the whole experience.
The most delightful part of the whole experience was the unveiling — I was amazed at how beautiful it was! I just recently hung it properly for the first time and that really made it feel complete.
I loved my painting on sight and nothing about that has changed years later.
If you're thinking of working with Brenda to create a painting — absolutely follow your heart and go for it.

Working with Brenda was a joy with a divine end result
- Julie Parker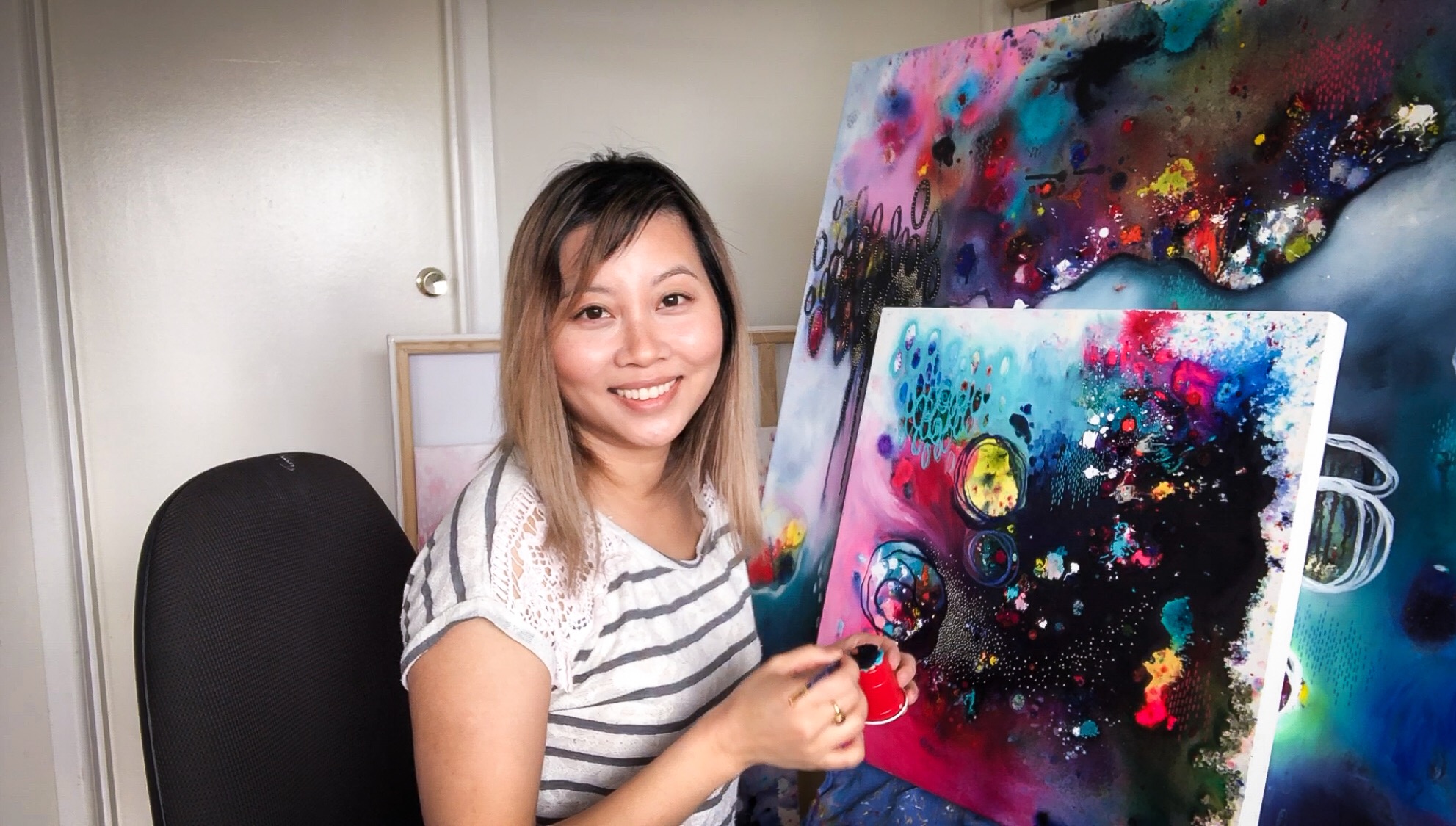 You're Invited to Take an Inspired Journey
• Picture finally feeling deeply connected in all sense with your home. One that even your family & friends can see is a space that is a true expression of you, your heart & your soul
No more empty walls of shallow 'pretty' things. No more sense of unsettled energy.
• Imagine an experience of creating an heirloom which tells your story, one that will continue to evolve with you as you grow in your spiritual & personal journey
• Imagine having daily communion with something that is a conscious participant in your energetic upgrades & soul performance that is also a BEAUTIFUL piece of art
Weaving your spirituality and soul into something beautiful.
• Visualise the daily joy of seeing an original artwork that connects you to yourself, your memories & your intentions and dreams for the future
Imagine art that activates your soul calling, your self-expression. Art that gives you access to your energetic elevation to show up
Imagine having something beautiful created JUST FOR YOU that helps you remember who you are and who you wish to be daily
Honouring your connection to your higher self & God in a masterpiece that can be treasured forever.
WE'LL WORK TOGETHER
TO CREATE ARTWORK WITH MEANING
Imagine taking the time to pause and reflect on your cherished moments, your connection with yourself, your family & the divine.
Choosing the intentions & stories you love to inspire an original artwork for your home. We will stand in the space that will transform your house into a home that brings you joy every day.
JOIN IN THE CREATIVE PROCESS
• We meet in your home (or over Skype) so your story and intentions can be shared 'face-to-face' because from the beginning, your experience of art will be a personal one.
• Extensive notes will be taken on your heart's expressions, meaningful magic making and soulful stories. Even the space where the original artwork will hang. The secret little details I am known for will be created in your original artwork from these notes. Something you will have fun rediscovering with friends when you delightfully invite them over.
• Back in the studio, I use my intuition to explore and process those expressions with either a few painting studies in my sketchbook journal for your bespoke painting (optional) or play directly on the canvas. You don't need to know what you want in a painting, I make it easy by taking the lead in the creative direction of the process. It actually works best this way!
Your deep trust allows you to surrender and share with me your intentions and I will create a beautiful original artwork that reflects & serves as a communion tool for you.
BESPOKE ARTWORK
• PAINTINGS: Then I surrender to my intuition & expertise to allow the painting to unveil itself to me or if you prefer, you can choose one or more painting studies to be reinterpreted on larger custom canvases. There are no templates or copies. There is only sibling similarities but each painting is it's own masterpiece
• Sized to suit your space so it fits your home perfectly as the finishing touch or Genesis anchor to direct your Spiritual Junkie/Pinterest/#InteriorDesign dreams
STORYBOOK OF YOUR EXPERIENCE OF ART
• You will receive a signed, hard cover Artist's Diary, which records and celebrates the chapters of evolution in the creation of your Conscious Communion Masterpiece
• This book gifts you the ability to retrace the backstory of your artwork as it unfolds and came to life, through the artist's eyes
LET'S PARTY!
• Finally, it's your turn! Bring together your circle of friends and family for a meaningful celebration and host an unveiling of your original artwork. Toast your heart's expression come to life in your space with the people who mean the most to you and seal your Conscious Communion with a delightful party!
Your commission artwork will be an Experience of Art where you not only have access behind-the-scenes to see the artwork come to life but also collaborate with me on the hidden details I'm known for, which will contain secret words and intuitive marks, spiritual activation symbols that are meaningful to you.
Whether bringing art into your home,
or giving it to another,
you can commission me to create a piece
just for you:
COMMISSION PAINTINGS
connection | calling | higher consciousness | soul communion
BEGINS AT $1111/month x 3
for a 80x100cm (~31x40inch) gallery-wrapped canvas.
raw oak frame + local shipping & delivery included
All Commission Paintings are priced by size.
We will finalise your personal quote on your no obligation discovery call.
Only 2 commissions are accepted a month — schedule your call TODAY as it's first come best dressed!
Brenda is not just a talented artist but she is passionate about creating something that you will love forever.
From uncovering your desires and honing in on what you care about, she will produce something that will make your heart sing.
Brenda is such an amazing person to work with and the process is so easy. I whole heartedly recommend Brenda to anyone looking to add unique and beautiful touches to their home.
- Michelle Jack
Art is connection to ourselves and each other. Art helps us create homes that feel like us. Art helps us give gifts with meaning.
ART INSPIRES US WHILE HONOURING OUR OWN UNFOLDING LIVES.
I create art that's about connection to ourselves, to the divine and to each other. For creatives at heart, like you (yes, even if you don't believe it) who want homes that feels like connection to your higher self…
FEELING INSPIRED?
Ready to transform your home into a joyfully mindful & spiritually intentional space?
Ready to gift yourself connection & beauty & a daily creative communion?
If you're ready for a transformation of home & heart,
then I would love to hear from you.
Your painting will be a physical manifestation of your intentions, your heart & values & the vision & evolution to your higher self.
Schedule a discovery call and fill in the application form below — you can share more details about your story, I can answer any questions you may have and if we are a good fit, begin your Conscious Communion Experience of Art!
Working on a commission with Brenda, I liked that I could share with her what I had on my heart and to allow the Holy Spirit to be at work as she created the art work.
I wanted an opportunity to be heard and listened to, while also being able to give and receive input and feedback.
I was pleased that Brenda was opened to receive input and wasn't fixed on her views for the artwork.
It was a delightful experience to work together with an artist to see something created.
There was the opportunity to adjust the painting (e.g. I had felt that the dark colours was too much and to have that easily adjusted with no fuss was pleasing). I enjoyed that Brenda made the time to ask me what I wanted and gave me the space to share and wasn't pushy in any way. She was also opened to allow God to have His input too.
The best part for me was that it tailored specifically for my friend based on what I felt the picture symbolises and the underlying spiritual meaning accompanying it.
Would I recommend a commission from Brenda?
Definitely! It will be fun and an enjoyable experience! If you don't have any ideas, she can give you some suggestions. If you have some ideas, she will work with you to create the piece that your heart desires.
- Davina (Yee) Fielding